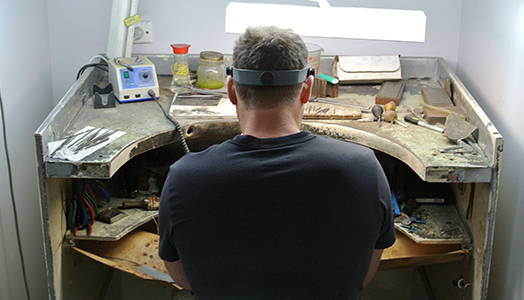 our expertise - your inspiration
From conception and design to gemstone selection and production.
We involve you in every stage of the process to turn your vision into reality.
Before you choose your design, choose a reputable Newcastle Jeweller to entrust with your vision.
Established in 1989, our jewellers have many years of experience using century old techniques alongside modern technology.
We create uniquely designed, long lasting jewellery that will be passed on for generations.
All of our custom, hand crafted pieces are made from start to finish in our Newcastle based workshop.
From the first sketch to the final embellishment, we abide by the highest standards in Fine Jewellery production.
Beyond the exceptional quality of each piece, our consideration and care is expressed in a profound commitment to responsible sourcing and sustainable practice.

Our fully qualified Jewellers complete all repairs and restoration work in our workshop.
Clients are invited to visit our workshop and showroom to see first hand the work we do.
Beautiful coloured gem stones sourced from around the world.
Jason and staff take the opportunity to hand select these stones to ensure the client is getting the best quality stones sourced with fair trade in mind.
Specialising in custom made engagement rings in Newcastle.

All of our diamonds are fully certified and sourced from accredited diamond suppliers worldwide.